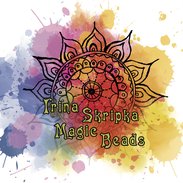 Magic beads by Irina Skripka
Russia, Astrakhan
I create handmade jewelry. Favorite styles — Boho, Ethno, Gothic.
The main materials used: beads, wood, stones, leather and waxed cotton cord.
(·_·)
It's empty here...
The workshop has not published any items yet.
In order not to miss publications, register (or log in) on the site and subscribe to workshop updates.