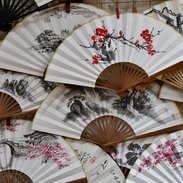 Xiaopeng workshop
Russia, Moscow
My name is Peng Yajing and welcome to my workshop.
I am fond of Chinese culture and do my own paintings in the traditional cloisonné enamel (cloisonne) style: wire and mineral sand.
In China, each element carries a certain positive meaning.
(>_<)
It's empty here...
The workshop has not published any items yet.
In order not to miss publications, register (or log in) on the site and subscribe to workshop updates.