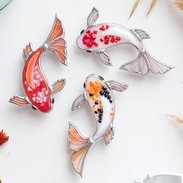 Lumiere Studio
Russia, Tambov
Lumiere Studio is a family business. We make Tiffany glass jewelry. Brooches, pendants, earrings, as well as stained-glass windows and decorative elements — you can find this all in our workshop.
The Tiffany technique was invented in the 19th century and has slightly changed since then. All items are 100% handmade.
(;-;)
It's empty here...
The workshop has not published any items yet.
In order not to miss publications, register (or log in) on the site and subscribe to workshop updates.