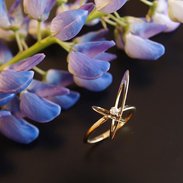 Aleksey Khodakov
Russia, Moscow
I make my images of thoughts into metal.
My name is Alexey Khodakov. I graduated from the Higher School of Folk Arts and now I am engaged in jewelry business.
I love to create jewelry beauty and embody complex extraordinary tasks into your orders.
(>_<)
It's empty here...
The workshop has not published any items yet.
In order not to miss publications, register (or log in) on the site and subscribe to workshop updates.