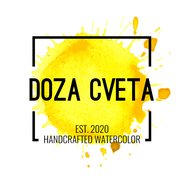 Doza Cveta
Russia, Moscow
Greetings!
My name is Nastya.
I create handmade watercolors in my small home workshop.
With thrill, love and attention to detail.
In my watercolors, I use only the most necessary components of paint: pigment and a binder, which consists of a solution of gum arabic, honey, glycerin and essential oil.
(;-;)
It's empty here...
The workshop has not published any items yet.
In order not to miss publications, register (or log in) on the site and subscribe to workshop updates.