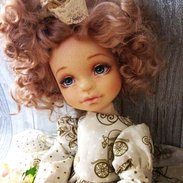 Natalia Kiverina
Russia, Yekaterinburg
Hello everyone!
My name is Natalia, I am a doll maker.
For more than 6 years I have been giving joy to "big girls". My dolls are for contemplation and decoration of home interior. It is a stylish and original element of design.
(⊙_☉)
It's empty here...
The workshop has not published any items yet.
In order not to miss publications, register (or log in) on the site and subscribe to workshop updates.