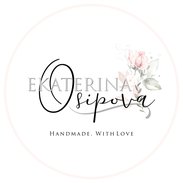 Notebooks / covers for documents
Russia, Syktyvkar
Scrapper perfectionist.
I still have your planner.
I help out as soon as possible.
Don't think — make an order!
What am I doing here:
— planners on a ring mechanism of A5 and A6 format
— notebooks bound in A5 format
— full banknote and mini wallets
— passport covers and car doc holders
— photo albums for children and weddings
(≥o≤)
It's empty here...
The workshop has not published any items yet.
In order not to miss publications, register (or log in) on the site and subscribe to workshop updates.